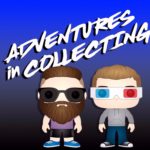 This week's episode takes a dive into the excitement of the 2023 San Diego Comic Con event – from the biggest reveals, most disappointing moments, and surprises that caught us off guard, dive into one of the biggest collectible events in the world with Dave and Erik, along with Paul and Bill from the Reluctant Adult Podcast!
See Paul's weird AI legs and more Reluctant Adult Podcast on social media @thereluctantadultpodcast.
Ready to shop better hydration, use our special link https://zen.ai/aicpod20 to save 20% off anything you order.
Save 12% at BlendJet – use our special link and the discount will be applied at checkout! zen.ai/aicpod12
Follow us @aic_podcast on Instagram, Facebook, Twitter, and YouTube
Intro and other voices by Joe Azzari
https://www.instagram.com/voicesbyjoe/
Theme Music is "Game Boy Horror" by the Zombie Dandies
Proudly part of the Non-Productive Network