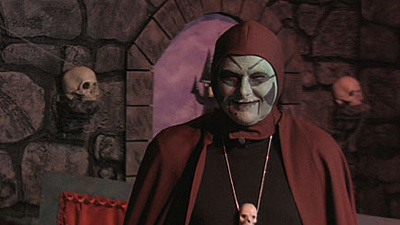 Sammy Terry
Real name: Robert Carter
Years active: 1961-present, Indiana
Moving into Indiana, we find one of the longest running hosts in the region, none other than Sammy Terry. Beginning as little more than a title card and voiceover done by WTTV employee Robert Carter, viewer response was so great it was decided that an on-air personality would be needed.
Putting on pale and ghostly makeup, Sammy Terry would emerge from his coffin every Friday night to welcome viewers to various forays into horror and suspense. With his booming voice and menacing air, Sammy Terry could at times be scarier than the films he hosted. When the show lost the Universal film package and was renamed Nightmare Theater, Sammy Terry proved to be just as capable as a host. The show officially ended production in the late 1970's, but was kept on the air well into the 1980s, this time playing in the afternoon on weekdays. In the early 1990's, Sammy Terry was brought back, coffin and all, to host Science Fiction Theater. Sammy Terry stayed the same even if the monsters now had tentacles instead of fangs. Despite being retired, Sammy Terry stays at it, even making personal appearances across the state to this day.
His son Mark has recently donned the makeup and is appearing as Sammy Terry in the upcoming film Creeporia.
Shock Theater began on WTTW-4 in 1961, with the name changing to Nightmare Theater in the 1970s. Science Fiction Theater ran for one season starting in 1990 on the same channel. Mr. Carter is alive and well and can be contacted through his website.