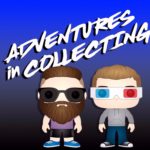 This week Dave and Erik are joined by Toy Pizza's Jesse DeStasio to discuss his passion for creating art through toys, the history of Knights of the Slice, and his latest project, Card Slicers now live on Kickstarter.
Follow us @aic_podcast on Instagram, Facebook, Twitter, and YouTube
Follow ToyPizza on Instagram and YouTube @toypizza
Back Card Slicers: https://www.kickstarter.com/projects/cardslicers/card-slicers-quick-combat-with-dice-and-cards?ref=discovery&term=Card%20Slicers
Visit Toy Pizza online https://toypizza.com and join Jesse's Patreon https://www.patreon.com/jessedestasio
Use my special link zen.ai/AIC to save 20% off your first order at Let's Make Art. Coupon is activated at checkout!
Intro and other voices by Joe Azzari
https://www.instagram.com/voicesbyjoe/
Theme Music is "Game Boy Horror" by the Zombie Dandies
Proudly part of the Non-Productive Network
Advertising Inquiries: https://redcircle.com/brands
Privacy & Opt-Out: https://redcircle.com/privacy