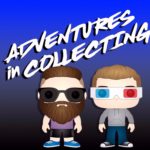 This week on the pod we sit down with Rob Post, owner of the latest ultra-successful Kickstarter campaign, Savage Crucible. Learn about how the line got its start, where it's going, and how you can get on board.
Follow Savage Crucible on Instagram @savagecrucible and visit https://savagecrucible.com to get your figures!
Interested in investing in Zencastr? go to wefunder.com/zencastr to claim your slice of the Future of Podcasting!
Get 20% OFF @manscaped + Free Shipping with promo code AIC at MANSCAPED.com
Go to blendjet.com and use code aic12 to save 12% off your order OR use our special link and the discount will be applied at checkout! zen.ai/aic12
Follow us @aic_podcast on Instagram, Facebook, Twitter, and YouTube
Intro and other voices by Joe Azzari
https://www.instagram.com/voicesbyjoe/
Theme Music is "Game Boy Horror" by the Zombie Dandies
Proudly part of the Non-Productive Network