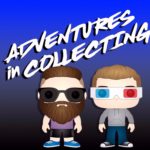 You wanted a Dragonfly, well you're GETTING a Dragonfly! Joining us this week on the show following yet another slam dunk HasLab announcement are returning guests and friends of the pod Emily Bader and Lenny Panzica from Hasbro's GI Joe team! We discuss the latest releases, reveals, and answer some of your burning questions!
Follow Emily, Lenny, and Hasbro on Instagram @morphinomenally_emily, @weatherdominator and @hasbropulse and visit hasbropulse.com for the latest news across the brand!
Ready to shop better hydration, use our special link https://zen.ai/aicpod20 to save 20% off anything you order.
Save 12% at BlendJet – use our special link and the discount will be applied at checkout! zen.ai/aicpod12
Follow us @aic_podcast on Instagram, Facebook, Twitter, and YouTube
Intro and other voices by Joe Azzari
https://www.instagram.com/voicesbyjoe/
Theme Music is "Game Boy Horror" by the Zombie Dandies
Proudly part of the Non-Productive Network