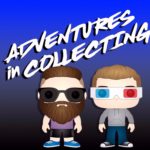 G.I. Joe and PSAs go WAY back, and in this special bonus episode, we celebrate the 300th issue of G.I. Joe A Real American Hero and learn how to stop bleeding in an emergency with Hasbro's VP of Global Licensing Michael Kelly and Dr. David Shapiro of St. Francis Hosptial.
Look for isseu #300 of Larry Hama's G.I. Joe a Real American Hero at your local comic shop now and follow G.I. Joe on Instagram @gijoe to keep up with the latest!
Learn how you can Stop the Bleed at www.stopthebleed.org
Use our special link zen.ai/aicpod and use aicpod to save 30% off your first three months of Zencastr professional. #madeonzencastr
Get 20% OFF @manscaped + Free Shipping with promo code AIC at MANSCAPED.com
This podcast is sponsored by BetterHelp. Visit betterhelp.com/aic to get 10% off your first month.
Follow us @aic_podcast on Instagram, Facebook, Twitter, and YouTube
Intro and other voices by Joe Azzari
https://www.instagram.com/voicesbyjoe/
Theme Music is "Game Boy Horror" by the Zombie Dandies
Proudly part of the Non-Productive Network