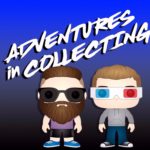 He's back! One of our earliest guests returns and A LOT has happened since we last had him on. From making popular documentaries about toys to profiling toy stores during the panedemic, and now, making toys of his own, the Nacelle Company's CEO Brian Volk-Weiss catches us up on everything he has going on!
Follow Brian on Instagram @brianvolkweiss and keep up with everything going on with the Nacelle Company on their Instagram @nacellecompany.
Use our special link zen.ai/aicpod and use aicpod to save 30% off your first three months of Zencastr professional. #madeonzencastr
This podcast is sponsored by BetterHelp. Visit betterhelp.com/aic to get 10% off your first month.
Follow us @aic_podcast on Instagram, Facebook, Twitter, and YouTube
Intro and other voices by Joe Azzari
https://www.instagram.com/voicesbyjoe/
Theme Music is "Game Boy Horror" by the Zombie Dandies
Proudly part of the Non-Productive Network