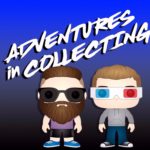 So real, it's like being in the ring! On this episode, Dave and Erik are joined by Mattel's Steve Ozer to learn more about the brand's upcoming WWE releases, including the Ultimate New Generation Ring, new lines, retros, and discover Steve's passionate history with toys!
BACK THE NEW GENERATION RING! Head over to www.mattelcreations.com to get started!
Follow Steve on Instagram @actionfigureattack.
Follow us @aic_podcast on Instagram, Facebook, Twitter, and YouTube
Intro and other voices by Joe Azzari
https://www.instagram.com/voicesbyjoe/
Theme Music is "Game Boy Horror" by the Zombie Dandies
Proudly part of the Non-Productive Network
Advertising Inquiries: https://redcircle.com/brands
Privacy & Opt-Out: https://redcircle.com/privacy