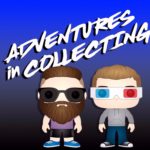 Welcome to AICNN (Adventures in Collecting News Network) where toy news matters! This is your AIC NEWS brief. Give us a few minutes, and we'll give you the goods.
This week the AICNN anchors highlight toy industry news from the week of April 10th, 2023.
Use our special link zen.ai/aicpod and use aicpod to save 30% off your first three months of Zencastr professional. #madeonzencastr
Save 12% at BlendJet – use our special link and the discount will be applied at checkout! zen.ai/aicpod12
Follow Adventures in Collecting on Instagram and Twitter@aic_podcast and on TikTok @adventuresincollecting, like us on Facebook, and subscribe to our YouTube channel for weekly unboxing videos and more!
Intro and other voices by Joe Azzari
https://www.instagram.com/voicesbyjoe/
Proudly part of the Non-Productive Network