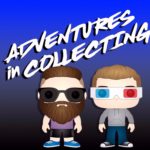 Bend it like Kanik! This week we're joined by Major Bendies Co-Owner Mike Kanik – from literal paper pusher, to WWE licensee, to Major Wrestling Figure Podcast partner, Kanik has been on quite the journey to helping run a growing toy brand. Hear about the process of bringing Major Bendies to life, his history with collectibles, and what's on the horizon.
Follow Kanik and Major Bendies on Instagram @kanik89 and @majorbendies and visit https://majorpodmerch.com to get your Bendies!
Interested in investing in Zencastr? go to wefunder.com/zencastr to claim your slice of the Future of Podcasting!
Get 20% OFF @manscaped + Free Shipping with promo code AIC at MANSCAPED.com
Go to blendjet.com and use code aic12 to save 12% off your order OR use our special link and the discount will be applied at checkout! zen.ai/aic12
Follow us @aic_podcast on Instagram, Facebook, Twitter, and YouTube
Intro and other voices by Joe Azzari
https://www.instagram.com/voicesbyjoe/
Theme Music is "Game Boy Horror" by the Zombie Dandies
Proudly part of the Non-Productive Network