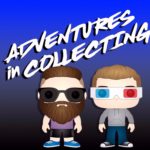 On this episode, friend of the pod and previous guest, CEO of the The Loyal Subjects returns along with new guest Kenneth Siemens of Think 3Fold to discuss their partnership, Walmart's push for collectibles, BST AXN, Garbage Pail Kids, and much more!
Follow The Loyal Subjects on Twitter @loyalsubjects and on Instagram @theloyalsubjects.
Follow Think 3Fold's Collection Obsession on Instagram @collectionobsessionofficial and find their listings on Walmart.com/collectibles!
Follow us @aic_podcast on Instagram, Facebook, Twitter, and YouTube
Intro and other voices by Joe Azzari
https://www.instagram.com/voicesbyjoe/
Theme Music is "Game Boy Horror" by the Zombie Dandies
Proudly part of the Non-Productive Network