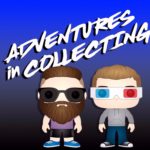 On this episode, Dave and Erik talk the latest in toy news including an avalanche of virtual con exclusive releases, their latest hauls, and the rules they set up for themselves to keep their collections (addictions?) in check!
Hear Dave and Erik on the Kornerkast!
https://kastorskorner.com/kornercast-podcast-88-adventures-collecting-kornercast/
Hear Erik on the "How I Got My Shrunken Head" episode of Calling All Creeps!
https://podcasts.apple.com/us/podcast/calling-all-creeps-a-goosebumps-literary-review/id1438337371
Follow us @aic_podcast on Instagram, Facebook, Twitter, and YouTube
Intro and other voices by Joe Azzari
https://www.instagram.com/voicesbyjoe/
Theme Music is "Game Boy Horror" by the Zombie Dandies
Proudly part of the Non-Productive Network